Last week, I posted an a
d on Craigslist
 offering my services as a professional bridesmaid. The ad quickly started appearing on computer screens across the entire world – and within minutes, my inbox started filling up like it had a terrible case of indigestion.
I felt like I needed an online platform to tell my story and allow the public to better engage with me around my Bridesmaid venture. That's why I collaborated with my brother Jay Glantz (
@jayglantz
) to quickly build and launch 
www.bridesmaidforhire.com
. We've been working nonstop over the 4th of July weekend (pausing, occasionally, to stuff our face with some good ol' BBQ!)
<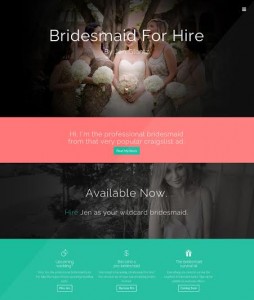 On the site you'll find lots of bridesmaid related content, tips and recommendations – as well as how future brides can reach out about having me be a professional bridesmaid in their wedding!
This is just the start.
So check out our new site – and let us know what you think!
Ps. Subscribe to The Things I Learned From for updates and brand new posts! I'll holler at your inbox (only) once a week – on Monday mornings with a fun tip to help you kick your butt out of bed!

Be first to comment