I've been hired, and fired, and hired, and resigned, and hired again throughout my short period of employable life.
I hope any future employers didn't read that.
The fact of the matter is, I've gone through a lot of job searches, and lots of soul-searching to find what I truly wanted to do for a living other than becoming a professional basketball player- that dream ended at age 10.
A job search is painful. A soul search to find out what you REALLY want to do in life is even more painful. You'll go through days where you take a look at your bank account and five different expletives will come out of your mouth because your paycheck wasn't as big as that job that tied you to a desk till 5:30 pm. Cancelled meetings will feel like the end of the world to you, because, well, what else are you going to do for the rest of the day?
There are positives to this though, once you realize life could be a lot worse- you could be Sarah Palin. You have freedom; you can do work in your underwear till 5 pm. You can work from anywhere you want- even your local distillery, though that probably isn't the smartest idea at 8 am. You can eat lunch at 10:30 am without feeling bad about it.
With this in mind here are some things I've learned from multiple job searches:
Routine is important– I am a spontaneous person, but I'm also a highly distracted person (this past sentence took me fifteen minutes to write- I was watching the Aladdin/Lion King Broadway airport sing-off). While meetings help structure your day, you need to set your own routine. Maybe you don't have to go to that 530 workout class anymore, but you should try for the 6 am zumba.
Check your emails, but not too often that it messes with your real work- finding a job. Schedule your meal times too- consistency is important, and not being consistent with a routine will cause you to lose sight of your real goal.
Do the Spontaneous- With this newfound flexibility, you sometimes find paid work in the most unlikely of ways. I've been a model (yes, I thought the company was drunk too), helped a political campaign, found some interesting sites to write for, and got into the catering business, along with a bunch of other opportunities that I happened upon. While you have time, say yes to everything- you won't regret it, and you have the time!
Put on some underwear- Yes, you don't have a job, and you can do whatever you want, though I don't recommend that Netflix binge your roommate is doing. Even the small step of putting on clothes will get some accomplishment flowing in your day. I've learned on days where it took me until 10 o'clock to get out of basketball shorts, I never really accomplished anything.
 Work Outside Your Home, and You Might Find Some Surprises- I've found that some of the most serendipitous connections I've made have been when I decided to wander outside of my home and work. That CEO-type who just ordered a mocha latte at your local coffee shop? He might just be needing a new employee- all you have to do is say hi. That cute artsy chic who occupies the spot next to you every day and eats her large chocolate chip cookie in such majestic fashion. Well, she might take you up on a drinks date for Saturday if you ask her. Working outside your home exposes you to so many new things, whether they be ideas, work opportunities, or people.
Job hunting has given you 8 more hours during the day to meet a new friend, or find out about a new project- take advantage of it. In fact, I happened to meet my girlfriend back in 2013 because I was on a job hunt…. all I had to do was comment on the People magazine she was reading in the line at Whole Foods.
 Selling Yourself is the Hardest Thing You'll Ever Do- I've struggled with self-confidence throughout my life, and it's a double whammy when you have that problem combined with getting rejections from companies. Rejection is tough when you have nothing to fall back on- what I've learned is sometimes, it's best to stew on it for a bit, then brush it off. Every rejection leads to where you're supposed to be, and sometimes, if you think about it, were you really a fit for that big, buttoned-up company?
Job hunting isn't exactly #wanderlust like you see in your friends' Instagram feeds, but if you play your cards right, it just might be!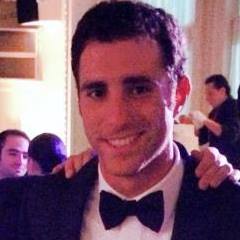 Adam Rosenfield is a freelance writer located in Austin, TX. If he's not taking your ear off about his Dallas sports teams, it's probably because he's stuffing his face with some brisket. Follow him @adamrosenfield and check out his profile atadamrosenfield.contently.com