In early February, I was selected by Glamour Magazine to appear in their new web series, Our Story.
During my interview with them, I was asked a question that made me fall under a wave of complete and desperate silence.
Silence that lasted more than 30 seconds. For more time than the rolling cameras surrounding me could support with a buffer that didn't make things feel awkward.
They asked, "What's your kryptonite?"
What has the power to rattle you. To distract you. To take you from running full speed toward your gigantic goal and twist you up like a tootsie roll wrapper?
I thought of a lot of things. Things I didn't want to admit.
Pizza (duh). Forever 21 dresses (always). 
I asked the crew on the other side of the camera if I could have a couple of minutes to think about this one. If it would be okay if we all just took a break and went our separate ways so I could figure out a fitting and complete answer to this slap in the face kind of question.
They asked me to talk through it. They asked me to be honest and to keep being honest throughout this whole interview.
So I took one deep breath and I told them the honest truth.
You can catch that answer (and many more answers to some very personal questions) in the videos below! I'll be appearing in a new episode every week – so check back in every Tuesday afternoon!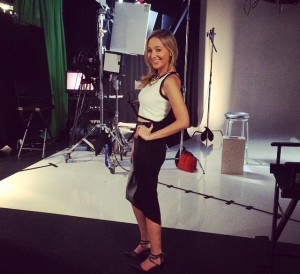 Episode 2: What's Your Dream

Episode 1: The Most Important Thing My Mother Has Taught
Make Monday Morning's ROCK!
Email Address *