As the wedding invitations find their way to your mailbox and you start blocking off weekends to attend one of the biggest and most well-planned celebrations of your friends or family member's life, you'll find yourself starting to put together a personal to-do list of things you need to take care of before the big day arrives. You'll start planning what kind of makeup and hairstyle you want to go with, what gift you want to bring, perhaps even who you want to take with you as your plus one. But the biggest decision you'll have to make is figuring out what kind of outfit to wear to the wedding.
Since you might have found it tough to find an outfit while also keeping up with your busy schedule, your best bet is to search for an outfit on an online boutique. To help you narrow down your search, so that you're not browsing thousands of sites for hours, here are the five trendiest outfits for wedding guests to wear in 2018, all from one online boutique that should catch your attention, Saved by the Dress.
A Maxi Dress With a Bit of a Fair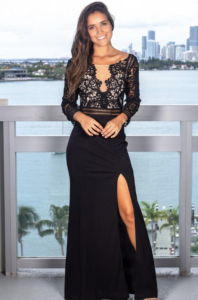 Maxi dresses are quite a popular trend in most online boutiques. When you're picking one out for a wedding this year, be sure to pick one with a unique detail to make it look more formal and one of a kind at a wedding. Maxi dresses with a crochet, patterned, or even sequined top, help make the dress stand out and provide a more celebratory feel to it, rather than just an everyday maxi dress you'd toss on to go shopping.
Rompers With a Twist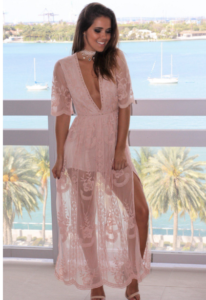 I bet you never thought that wearing shorts or pants to a wedding would be something you could consider pulling off. Dressed up rompers with a twist are in style for wedding guests this year. Look for a romper that has either lace, crochet, satin, or tool fabric, to give it more of a formal feel.
Long-Sleeved Dresses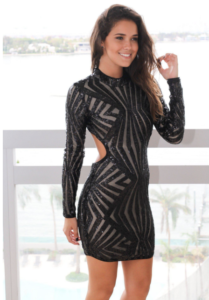 As the fall and winter season approaches, finding a dress that will both keep you warm in the frigid temperatures and also looking on trend can be a difficult task. As you browse through online boutiques, look for a dress that's in a winter color like black, dark gray, blue, or even eggplant. Find a long sleeved dress with a sequin or lace detail on it for that added evening gown feel.
Formal Dresses With High Slits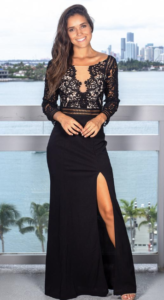 If you're looking for a dress that will wow the crowd and stands out from the rest of the outfits that wedding guests are wearing in 2018, go with a formal dress that has a high slit and looks like it belongs on the red carpet for the Oscars or Grammys. Pair this dress with a statement pair of heels in a bright color that makes the overall look pop even more.
High Low Dresses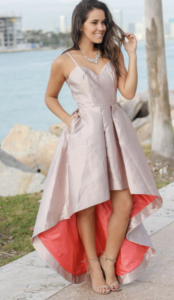 As the season starts to change, one trend you can give into that will both help you meander your way into fall and winter is the high low dress trend. Dresses that are longer in the back and a bit shorter in the front provide both a fun, flirty, and fierce fashion statement as a wedding guest this year.
*This post is a sponsored post in association with Saved By the Dress*