Welcome to The Things I Learned From! I don't know how you got here, but I'm truly glad you did.
Hello, Howdy, Hey There! 
Consider this your secret hiding place for when you're painfully bored at work and can't skim through another excel spreadsheet or email from HR on refrigerator protocol.
Consider it your weekly dose of Xanax when you're mind is running a 5K around the thought of not knowing what the heck to do with your life, or how you're going to pay your American Express bill from this month (…and two months ago), or why you sometimes don't understand the awkward things that wobble their way out of your mouth. How about a high-five for the only place that'll make your dating life feel saner than it does after you log off of OKCupid with a mild headache and a major fear of spending the rest of your life alone. My heart races at the thought of creating something out of nothing – except if we're talking about dinner or a really bad date where the guy makes balloon animals for you at a fancy Italian restaurant, over a plate of linguine and read sauce, on east side of a city you laughably can't afford. Five years ago, after graduating college, I didn't have anything more  to my name than a clear plastic case filled with mint-condition Beanie Babies and a resume that said I was proficient in making mash-ups of Shakespeare Sonnets and Jay-Z songs. So I created this thing, this blog, this website. A place for me to declare to the universe, and the people who never called me back after job interviews or lousy first dates, that I'm Jen Glantz! That I'm going to figure it all out, one day.
And until I do, you're coming along with me on this adventure.
Ready?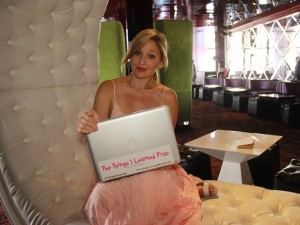 Close to 5oo blog posts later, here are the 15 most popular ones to binge on NOW!
1. From How to Make New Friends  2. From Being a Sorority Girl 3. From What are You Going to Do After You Graduate 4. From 25 Things to Remind Yourself to Do at 25 5. From Auditioning for the Bachelor 6. From 9 Unusual Ways to Describe What Falling in Love is Like 7. From Dating Exit Interviews 8. From Don't Move to NYC 9. From I'm a Professional Bridesmaid 10. From a 100% Honest Online Dating Profile 11. From New Year's Eve in Times Square 12. From Being Single in my 20's 13. From Getting Punched in the Face in Herald Square 14. From I Let My Mom Go on JDate 15. From The Happiness To-Do List