Tag: palm of his hand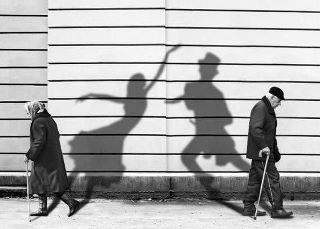 Below is an exerpt from a non-fiction piece I wrote titled, "Follow the Leader", which examines the different types of relationships I have experienced in my life via the things i learned from a ballroom dance class i once took. [ For my B.A. in English at the University of Central Florida in 2010].
In ballroom dancing, the man is the leader. It is as simple as that. Every single step is guided and chosen by the male. The anticipation that builds up inside the woman is something that she can not express, is told to hide desperately behind the rapid pulsating of her heart, and carried on through the strong arms and straight posture she is expected to present to the audience. If the male misses a step or forgets to start on the sly beat of the drum, the woman can not move. She can not stare into his eyes with a look of hopelessness or pout her lips in despair. She can not even squeeze the palm of his hands in hopes he will get the signal. They will just stand still until the man moves his polyester dress pants forward, backward, side to side. While the woman, well, she must follow.
Proper … Read More »
---