One night last week, I couldn't sleep. And when I can't sleep, I don't think about those floozy sheep or the items  on my seemingly never ending to-do list. I think about  writing and The Things I Learned From and how I can make this website even more exciting, more bold, more like home to people out there who need a place to go at 1pm on a Wednesday. To help me out with that, I reached out to my pal Steph (a blogger, a marathon runner, and a converse wearing NYC transplant with Midwestern charm) to write about a time she gave in and mustered up the courage to jump into something bold in her life.
Here's her story. Have one of your own? Send it to  me: Jenglantz@gmail.com
____________________________________________________________________________________________
I asked him to repeat his question when he asked where we met.
I heard him perfectly clear. I was trying to buy some time and decide if I would reply with the truth. Unfortunately (or I guess fortunately), I'm a terrible liar (thank you mom and dad for one serious, and well-used, conscience). My mind flashed forward to me in a stark white room where more questioning would take place…when dealing with the unknown my imagination only knows how to completely take over. To avoid traveling down some sort of rabbit hole of lies I went with the truth to the customs officer. Of course, it was not until that time I realized how ridiculous it sounded.
Telling the officer at the Toronto customs desk that you're visiting a guy you met once while in Mexico is almost crazy enough to make you question why you're doing it in the first place.
I swear they jack up the heat when going through the customs operation in the Toronto airport. Why is it that the same story felt completely normal when my flight seatmate asked what brought me to Canada? Fortunately, customs man decided I passed the test after several questions, including what both my and the Canadian guy's professions are and said guy's age. To which he responded "very good" when I answered an electrician and 33. (I later learned the Canadian government is concerned people are trying to come into Canada and will take jobs away from locals. Customs man has obviously never visited New York City…people leave this place?)
The trip was the definition of an adventure according to Merriam-Webster:
An undertaking usually involving danger and unknown risks.
The encountering of risks.
An exciting or remarkable experience.
Spending an entire weekend with a guy I had spent only a very limited amount of time with – in another country no less – fits that description. A few concerns did come to mind…What if we didn't click? Ran out of things to talk about? Or turns out he's not the upstanding gentleman I thought he was? On top of that my phone barely had service – more of a concern for my family at the time, but certainly a bit risky. Walking in the Calgary airport towards the guy and that grin calmed any nerves I had and his simple kiss on the cheek greeting reassured me I made a good choice in stepping into this adventure.
More than anything I looked at this trip as an opportunity to get away from the city I love – to make time to disconnect from my 'always on' lifestyle and really connect in this new one.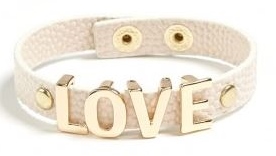 I bought this bracelet as a reminder that I've been in love (it has been awhile so albeit slightly silly, a physical reminder felt necessary) and that I will fall in love again. Around me I see countless examples of true love. With 5 weddings in the last year and 7 engaged friends it seems like everyone is doing a standup job at finding "the one." As with a lot in my life, I don't compare myself to them. Rather, I view them as excellent examples to aspire to one day.
Meeting the Canadian came at just the right time in my life. Being with him gave me this newfound confidence that every part of me was just right. He even said the right things, but not because he thought he should – because they were coming from an honest place. He told me if I lived in Calgary he would date me. As a girl who had almost forgotten what it means to date, this was music to my ears. He was so genuine and his passion for adventure was contagious. Not only did he travel regularly, he owns land in another country where he plans to build property as time shares to rent. Adventure with a sense of purpose (and a side of business). :::swoon:::
There were a handful of times throughout the weekend when I asked myself, "How did I get here" Or I thought back to the conversation when I explained to my mom I was being flown out to Canada. I joked about how I couldn't get a date in New York, I might as well leave the country for one. And every phone call home after that started with my dad singing, "O Canada…" Hooray for supportive – and open-minded – parents!
It was during one of our nights out when I knew this adventure, while unique and worthwhile, would be short-lived. From our conversations I learned he didn't see himself with kids and he seemed to question whether he would ever really "settle down." (Side note: I really hate that term. I certainly hope my future homeboy doesn't consider a future with me as settling.) But, I wasn't going to let that affect me. I went into the trip with no expectations other than to enjoy myself and try something completely new. When he suggested a New York visit next, I agreed, but inside questioning if it would come to fruition. And that's okay. I met someone and I went for it – in the largest sense – I mean, I crossed international lines.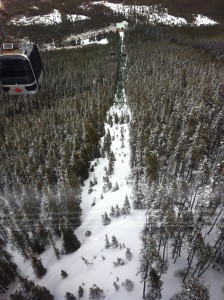 It wasn't until my return trip that I started to think of the significance behind losing my LOVE bracelet sometime during that weekend. I wore it to have a reminder that I will fall in love again. And on a simpler level, that I'll be in like first to get there. My trip to Calgary was the reminder I needed – to experience again what it means to be in like.
Who needs a bracelet when you can have the real thing?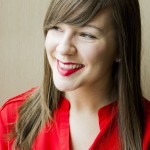 Stephanie Florence is a 20-something who can talk to a brick wall and dance to a kazoo. She contributes to the 40:20 Vision as the Millennial Editor and on every day that ends in "y" you can find Stephanie meeting people, telling exceedingly long stories and taking the approach of a student…always. She will happily talk you through outrageous customs interactions because really, who thinks that is going to be the scariest part of an international date? Find her dancing around New York City in her personalized Chuck Taylors, complete with her Twitter handle: @StephanieFlo.
There's not enough SNOOZE buttons in the world to handle MONDAY! After you scribble down your info in the form below -you'll receive my Monday morning newsletter that's filled with reasons and tips on how to make Monday ROCK!