"Wear sunscreen. If I could offer you only one tip for the future, sunscreen would be it…Whereas the rest of my advice has no basis more reliable than my own meandering experience, I will dispense this advice now" – Baz Luhrmann
I'm horrible with transitions. I never liked overnight camp, I couldn't handle middle school sleepovers and I cried to my parents every day for a month before I left for college. After the four most emotional, challenging, rewarding, incredible and life-altering years of my life, you would think I'd have gotten used to a little change. Well, let me tell you graduating seniors, you're not getting off the roller coaster anytime soon. It's been a year since I was in your shoes and I'm holding on for life.
I still catch myself saying I "just" graduated college, though I no longer mark time with semesters, finals, formals, and breaks (which are NOT a thing in the real world). Instead, I find myself counting this manageable time frame we call a month – a seemingly small benchmark that, in actuality, turns into something much larger.
In March, I 'celebrated' my six-month work anniversary. And by celebrated, I mean woke up at an hour I still consider a bit ungodly and went to work like any other day. As I realized the date on the calendar, I marveled at how quickly time had flown. Six months prior, I said goodbye to my summer of mourning college graduation, and walked into what was the first day of the rest of my life, hopeful that the next four years would be as good as the last.
Six months is the blink of an eye but at the same time, it's a lifetime. In fact, by the time I actually got around to finishing this article, I was well into month seven, with this new chapter of my life continuing to unfold. In seven months, the world can be turned upside down. Relationships can blossom, or fail; families can expand, loved ones can be lost. In seven months, you can go nowhere, or in seven months, you can go everywhere.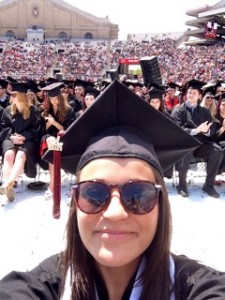 So, Class of 2015, here's where you come in.
You are me, a little younger, maybe more optimistic, a bit naïve, wide-eyed and fresh faced. You can still go out four nights a week, sleep until 10am on a Tuesday, and acceptably wear sweatpants in public. You're on the brink of something exciting, but there are a few things I wish I could tell you, and year-ago me, before you toss your cap.
Don't Look Back Too Much
You had an incredible four years. College freaking rocked and it's okay that you gained eight pounds second semester senior year, everyone's fat in college. Your life will never be what it was the last four years and I know you were not ready for that to end. But don't spend all your time looking back. You quite literally have the rest of your life ahead of you. You will find other things that make you happy, and things that fulfill you in ways you never expected. You will never again be the person you were in college, but that doesn't mean you won't be someone better. College will always be there; with memories and a shot of warm cheap vodka waiting to welcome you back.
Keep An Open Mind
You have absolutely no idea where life is going to take you. If someone had asked me at 14 where I was going to go to college, I doubt chubby, Juicy Couture-wearing me even knew what the state of Wisconsin was. Similarly, if you had asked me a year ago where I was going to be after college, I never would have anticipated I would be using my love for writing working for a non-profit whose mission I believe in so deeply. You never know where or when you're going to stumble on your dream job. Keep your eyes open and take a chance. If you can wake up (almost) every day and be genuinely excited to go to work, you are living the dream.
It's Okay to Lose Friends
You will not keep in contact with every single one of your "best friends" from college. You we're in a sorority and literally considered almost half of the 176 girls your closest friends. College was all about convenience. You knew exactly who was going to be at what bar on what night and making an effort to see your "friends" consisted of walking down across the street. Don't worry about not having 100 plus people to invite to your birthday. Now is when you realize who your best friends really are; the ones who never miss a weekly phone date and are willing to drop a good portion of their paycheck just to spend 48 hours with you.
And one more thing soon-to-be graduates, if you see 14-year-old me, tell her not to let the lady at the nail salon wax her eyebrows!
Ilana Fromm hails from Westchester, New York, where she was raised on Disney movies and Nicholas Sparks novels. She spent the last four years at University of Wisconsin-Madison eating her body weight in cheese curds and falling head over heels in love with the Midwest. With a bit of wanderlust, Ilana has two goals in mind for wherever life takes her next: become the next Carrie Bradshaw and conquer every brunch spot in the city of her choosing.