If you ever want really good advice – don't ask your friends or your family. Ask a stranger. They'll be in honest in a way that is raw and heartbreaking, simply because they don't know a thing about you. Today's guest post, from Danielle, is about the dating lessons strangers have given her on a topic we all want to know more about: LOVE.
____________________________________________________________________________________________________________________
A college professor of mine once told me that the best journalists ask a lot of questions. That professor probably didn't think that I'd go on to write a column where I ask complete strangers to share their dating experiences with me. Over the past year, I've had the chance to chat with so many different people about their dating do's and don'ts. Here are the 9 best dating lessons that I've learned from talking to strangers!
1) You can't force someone to care about you
"My dad overheard me in a fight with my boyfriend when I was in high school. I was screaming at him and telling him he didn't care about me (I just found out he cheated). My dad came into my room mid-yell and said to me, 'You can't force someone to care about you. You can't manipulate it. If he doesn't care, it's his loss.'  I never chased a guy or tried to make him care after that." -Renee, 26
2) Date a man who does his own grocery shopping
"I met this guy who was smart and funny (with a good job!) but also tended to be whiny. I couldn't decide how I felt. The first time I went to his apartment, there was no toilet paper in the bathroom. He directed me to his hall pantry to find more, where I found all kinds of store brand products from Waldbaums supermarket. Now, we both lived in Manhattan, and there was no Waldbaums in the city. There was, however, a store in his hometown on Long Island. In that moment, I realized his mother did all his grocery shopping for him. It spoke volumes! Instantly, many things about him became very clear and it was absolutely a dealbreaker! (By the way, I was not wrong about him!)." -Adrienne, 61
3) Learn to be happy by yourself
"After my first big heartbreak, my mother told me, 'You won't be happy being with someone until you can be happy when you're alone. Take yourself to a movie, out to lunch, for a walk in the park. Just get comfortable doing things on your own, that way you won't need another person to make you feel satisfied. When someone finally does come along, it will be an extra bonus having someone to share the things you already enjoy doing on your own.' On occasion, I'll still take myself out to lunch or stop at a random bar and have a drink. If I can feel fine doing those things alone, which I do, it'll feel especially nice when I meet someone to do them with." -Kara, 25
4) Marry the man that accepts you
"My father told me, 'Do not marry the guy who wants you to change. Marry the one who believes that being with an irrepressible, untamable, and unapologetic woman makes him the luckiest man on earth.'" -Sandy, 35
5) Date someone who can enjoy the ride
"I once broke up with a guy because he was no fun on a merry-go-round. I still support that decision all these decades later. A guy who just sits there on the back of an up-and-down horse going round and round to calliope music, who neither whoops nor pretend-spurs nor yells "Hi-ho, Silver!" or even smiles or exhibits enjoyment and/or FUN is not someone I should be spending my time with." -Cynthia, 70
6) Don't trash your ex
"There's nothing worse than going to someone's Facebook page who you might be interested in, and seeing them trash someone they just broke up with. We don't know the story, but all this says to me is that there's no way I'm approaching her because if it goes wrong, EVERYBODY is going to know about it." -Rob, 32
7) Learn from your past relationship mistakes
"I'm a physician, and my ex-wife is also a physician. We butted heads constantly. We are both alphas and couldn't make it work, no matter how much we loved each other. So as I was dating, I promised myself I wouldn't marry another physician. My current wife is an occupational therapist and is perfectly happy letting me lead on everything — except decorating our home. The best part is I am much happier, and my current marriage works a hell of a lot better."  -Scott
8) Don't write someone off because of their age
"I dated a much older guy before meeting my current younger one, and I think I didn't take the younger guy as seriously because of his age. When we began dating he was still in college, and I was handling a demanding job. I wasn't sure how to exactly bring him to work events without feeling like a cougar…or a tinge of embarrassment. It seems ridiculous now, because he's more mature and thoughtful than any of the guys I had previously dated. I was the immature one for not recognizing it early on…and being caught up in superficial things like age." -Nicole, 25
9) Treat dating like one of your hobbies
"I like to think of dating as one of my many hobbies and try not to take it too seriously. I know that I'm much better off being the best version of myself possible, solo, than a lesser me but with a companion. There are only so many hours in a day, and I like to surround myself with people that I can learn and grow with, not just with guys but with friends as well! If you're not keeping the best company, what's the point? " -Erica, 25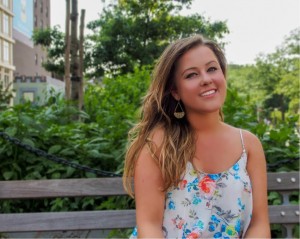 Danielle Page is the founder of ThisIsQuarterLife.com, a blog that provides necessary information for navigating the awkward phase of adulthood known as "quarterlife." Danielle's work has been featured on Woman's Day, Your Tango, The New York Times, Thought Catalog and the Huffington Post. She's a proud cat mom of one.